Space to Experience K-Beauty – H&B Store
In the last two postings, we covered fashion e-retailer platforms that target the MZ generation with two key channels, Musinsa and 29CM. Today, we will focus on the beauty category by looking at H&B (Health & Beauty) stores in Korea.
H&B store is also known as a drug store which sells from cosmetics to dietary supplements as you can imagine from the name 'Health & Beauty'. However, the main items of H&B stores in Korea are concentrated in cosmetics. Even though they provide various kinds of categories, since their main product is cosmetics, we consider this type of store as a vertical platform.
The H&B store market grew by 183%, from 742 billion KRW in 2014 to 2.1 trillion KRW in 2018 and is expected to reach 3 trillion KRW in 2020. The market demonstrated its potential with annual sales growth of about 30% over the past five years. In the domestic cosmetics retail market, which is worth 5.6 trillion KRW as of 2020, sales of H&B stores alone were about 43.6%. Among them, Olive Young takes 70% share of the whole market. While the H&B retail market grew to 3 trillion KRW, the cosmetics road shop market shrank to 1 trillion KRW.
The reason why H&B stores are important to brands that would like to initiate a beauty business in Korea is because most female consumers use H&B online and offline platforms to buy cosmetics. These channels are also well equipped in the offline and online because they are operated by conglomerates such as CJ(Olive Young), GS(Lalavla), and Lotte(Lohbs). They execute promotions and events regularly depending on seasonal schedule or holiday, and are very accessible. Also, female consumers of almost all ages, but especially of the 20s age group, use these platforms to purchase cosmetics.
From the mid 2000s until recently, the domestic cosmetics consumption was dominated by road shop cosmetics brands. Those were not launched in the department stores, but usually located on the road or near the main street. Major road shops included for example Etude House, Innisfree, Missha, Aritaum, Tony Moly and so on. They can be easily found on roads in Myeong-dong and Gangnam which are frequently visited by Japanese and Chinese tourists.
These road shop stores focus on individuality by selling products particularly from one brand. Also, the price of the products is generally affordable. However, as more consumers want to buy cosmetics in stores that have a variety of products, high price competitiveness, and with the increasing online shopping rates, H&B stores and multi-shops have become popular.
Amore Pacific and LG Household & Healthcare, two big cosmetics companies, are either entering select shops that combine existing road shop brands with their own brands or are focusing on expanding their distribution network to H&B stores. Amore Pacific's own brands such as Etude House and Mamonde are launched in Olive Young, allowing more consumers to purchase their products. LG Household & Health Care is expanding their multi-shop 'Nature Collection' to create a more impactful channel of sales, on top of their road shop brand 'The Face Shop.'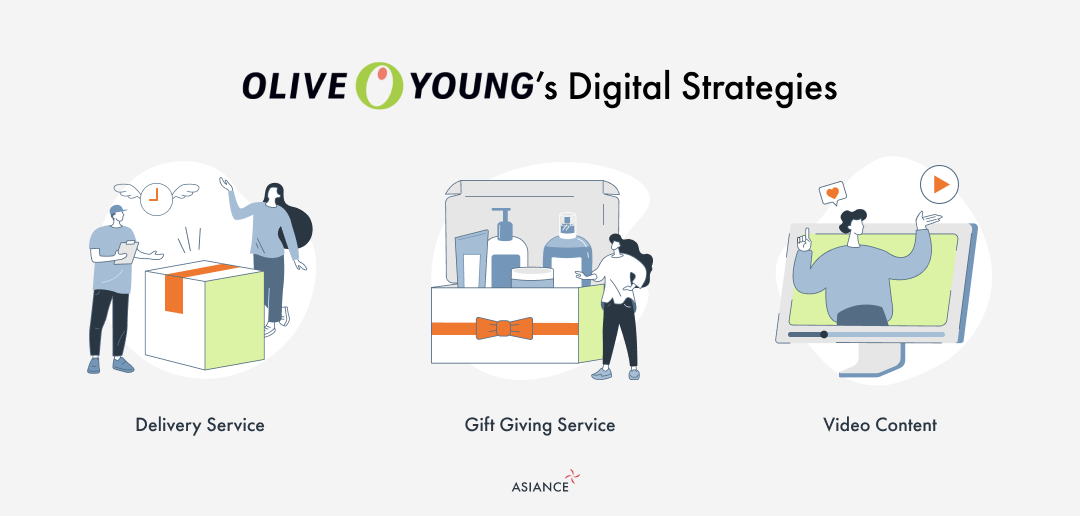 In this highly competitive H&B industry, Olive Young, who stands out by far, is solidifying their role as an 'omni-channel' that encompasses both online and offline. Olive Young introduced 'Oneul Dream' through an online mall in 2018. It is the cosmetics delivery service that allows customers to receive products purchased from Olive Young's online mall and mobile app within 3 hours of ordering. In 2020, they introduced 'Fast delivery', '3!4! delivery' and 'Midnight delivery' services, which are designated time delivery options for Oneul Dream. This service maximizes customer convenience by allowing customers to choose the time they would like to receive the products.
Olive Young also launched 'Olive Young gift card', an online gift-giving service. Olive Young gift cards can be bought through Olive Young's official online mall and given to others using Olive Young's notification talk and multimedia messages (MMS). Customers that receive gifts can use them like cash at Olive Young stores and online malls. Furthermore, Olive Young is actively communicating with millennials, its main customer base, using content on YouTube. Since January of 2020, they have been introducing their own YouTube channel, 'Olive Young's Ranking Guide,' in which employees at Olive Young reveal the rankings of popular products by theme, and deliver fun episodes andl shopping tips.
Meanwhile, Lalavla, a subsidiary of GS Retail and the second-largest in H&B retailer, entered GS25, the convenience store chain owned by GS in 2020. GS Retail plans to establish beauty-only stands in GS25 to develop competitiveness in the H&B category. Lalavla is also actively introducing organic, eco-friendly products and social media issue-related products to build up their differentiation. In order to increase unique products in stores, various PB(Private Brand) products are introduced to their female customers, which make up their largest users.
In fact, Lalavla officially launched their 'Once in a Moon' brand in partnership with KGC Insam Corporation and is releasing various products in this category. Responding to skin troubles and depression that women suffer during menstruation, they are introducing a series of products that help heal their bodies and minds, including multivitamin, blending tea, etc.
They also make efforts to exclusively have beauty brands that are not sold by other H&B brands. They are trying to find beauty items of SMEs to support their business, while expanding their product choices to customers in line with consumption trends.
Meanwhile, Lohbs, the third-largest in the industry run by Lotte Shopping, pulled out a 'shop-in-shop' strategy. Lotte Shopping has decided to combine its Lohbs division with their mart division in 2020. It is estimated that Lohbs' integration into Lotte Mart will create a synergy effect in terms of profitability, as there are already many stores (shop-in-shop) in Lotte Mart.
As a new brand, there are a few insights and takeaways that should be considered before diving into the K-beauty industry. First off, online shopping is increasing even for cosmetics since COVID-19. Customers now can look up online reviews from various platforms such as Naver Blog, Naver Cafe, YouTube, Instagram, and more. Therefore, marketing activities and promotion held online create a lot of traction and are quite effective.
With respect to this, fast delivery services also became a key integral part of the customer journey. In Korea, customers have high expectations towards delivery time and options. It should be noted that matching the customers' expectations on delivery services or even online gift-giving functions are crucial.
Besides, in Korea, there are even premium/luxury beauty malls such as Sephora and Chicor, so consumers can experience various global cosmetics brands that are not launched in H&B stores. And these premium beauty malls' membership services are also well established. Thus, brands should review their online platform and sales strategy depending on the brand's differentiated direction.
---
Are you interested in Asiance's insights?