Deliver Your Heart – KakaoTalk Gift 'Gift Review'
The last Insight Posting, provided a general understanding of the KakaoTalk Gift service. KakaoTalk Gift's services and product categories are expanding and various functions are added to gather more specific consumer data. Today, we will learn about the curation function of KakaoTalk Gift. On the main screen of KakaoTalk Gift, various recommended gift lists including recommendations based on gender, age, etc., can be found, as well as the AI recommendation section. This particular curation service is considered a big contributor for the growth of the online gifting market, also for KakaoTalk Gift. The curation service is a system that recommends gifts to consumers by context, target, and price range. For example, it shows products that are sold a lot in different social contexts such as Valentine's Day or birthday gifts, or as recommended gifts for different types of receivers, such as parents and friends. Kakao is ahead of other companies in terms of curation functions. Although there were only about 6,000 suppliers delivering the products as of January 2020, the great benefit of this service lies in the fact that it saves consumers the time and hassle of searching for the right products.
The reason why Kakao was able to offer a curation service by gender and age based on "AiTEMS," (an AI-personalized product recommendation technology) lies in securing consumer data. In order for curation services to work effectively for each consumer group, data is needed to analyze consumer behavior. Then how is Kakao collecting data on consumer behavior? Since the end of last year, KakaoTalk Gift has introduced a function that allows people who received gifts to write reviews. The point of this service of KakaoTalk Gift is that gift recipients can leave a message on whether they recommend the gift or not. To those who receive the gift through KakaoTalk Gift, a Kakao message is sent asking them to write a review along with asking if they have received the gift. The receiver of this Kakao notification can rate the items and post reviews of writings, photos, and videos. This system resembles a conventional e-commerce review system. According to Kakao, the service was introduced to provide actual users' information and reviews to customers who are willing to purchase gifts to help them buy and to improve their satisfaction level so that both buyers and gift recipients can be satisfied. The person who receives the gift may leave a review anonymously for an honest evaluation.
Another impressive part of this gift review function is that people can tag who they received the gift from. It helps Kakao categorize the relationship between family, friends, student-teacher, and co-workers to lovers. In addition to people indicating which gift they got, there are also various tags ranging from birthdays, exams to fun, apologies, and cheers. In other words, if a KakaoTalk user received a present as a birthday present from a friend, he or she can enter a hashtag #fromafriend #birthday, and rate the present. And of course, a prerequisite is that the user has to input reviews such as writing, photos, videos, etc. Before the launch of the gift review function, KakaoTalk users had to directly search for the products they wanted to purchase or made purchases considering the gift ranking. However, currently, the number of purchases that Kakao recommended based on data is expected to increase.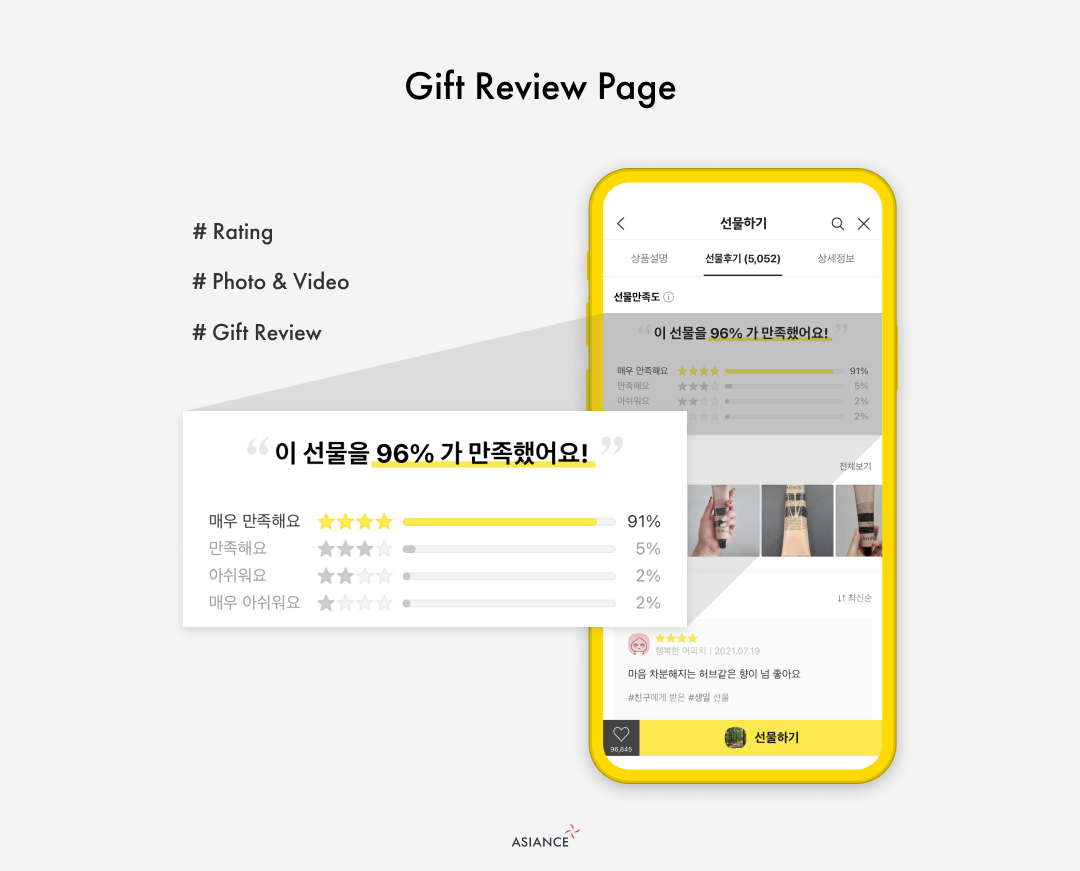 Data-based services are not only provided by KakaoTalk Gift. In order to not only sell goods or services, but also provide information on brand images, campaigns, new products, events, ambassadors, etc., and to lead to conversion through them, it is necessary to create a brand channel within KakaoTalk. If brands would like to know the relation between which consumers and how many consumers use the brand's KakaoTalk channel on the brand's e-commerce website, Kakao also provides services for this need. This function is called "Kakao Sync". It allows users of KakaoTalk to easily subscribe to a brand's website using KakaoTalk IDs, that are then matched to the brand's KakaoTalk channel with customer information. The brand can then communicate with customers and collect specific customer data. We will talk about the KakaoTalk brand channel and Kakao Sync in more detail in the following Insight Posting.
Data-based analysis, such as the review function of KakaoTalk Gift, Kakao Sync, etc., is essential for enhancing the conversion of the brand and better communicating with consumers. This resembles the case in which Spotify, an audio streaming application, introduced a service called Discover Weekly that recommends music lists suitable to app users' own taste. The number of Spotify subscribers increased rapidly once this service was provided. If a brand is considering doing digital marketing in Korea, there are parts to look at in detail, such as tools and methods to analyze consumer behavior. As discussed today, big data can be created based on information collected from consumer reviews of KakaoTalk Gift. Based on the big data, the results of KakaoTalk Gift will grow further if curation services are provided to satisfy each consumer target. Proper curation can be an important driver of brand growth.
---
Are you interested in Asiance's insights?