Report Background: Asiance X Global Research
The Luxury Consumer Research Report 2022 is an exclusive annual report by Asiance. It provides an outlook on Korean luxury consumers in 2021 through data, insights, latest trends and key takeaways. The report was based on a survey conducted by Global Research, a survey agency based in South Korea. A total of 1000 Korean luxury consumers participated in a survey. The questions were provided by Asiance in order to understand the characteristics, demands and needs of the Korean luxury consumers.
Pre-Purchase Stage: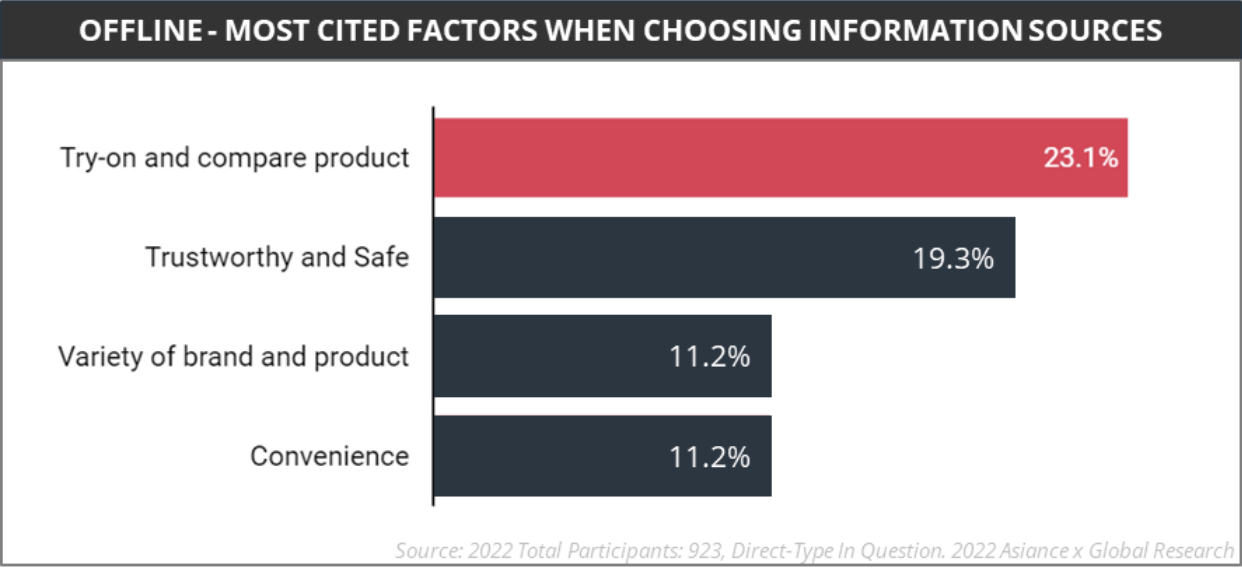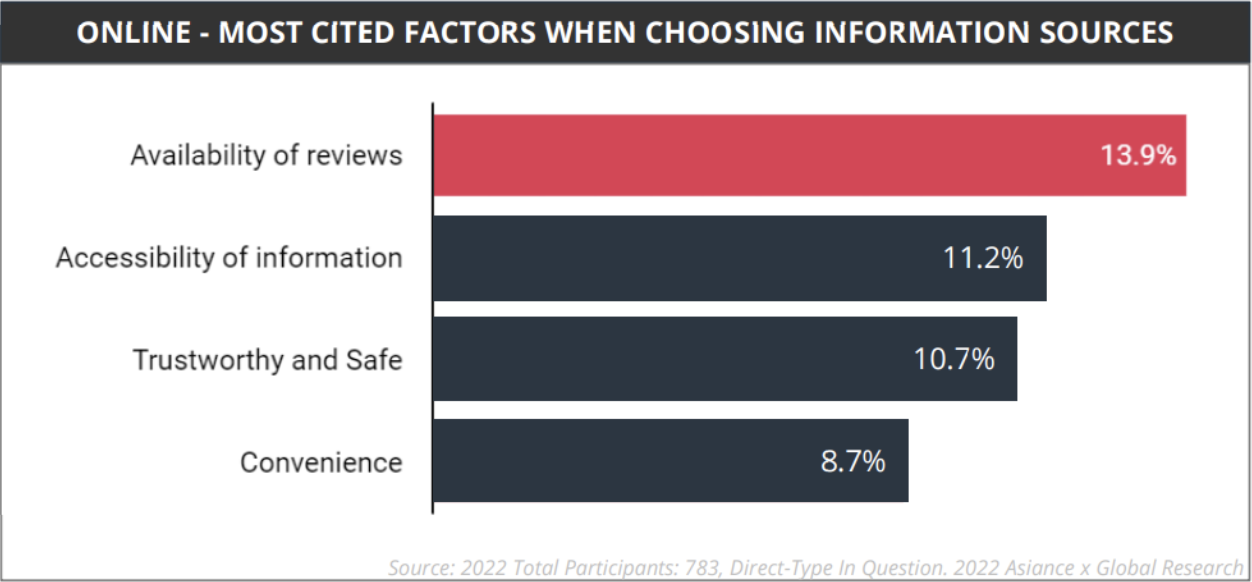 In the pre-purchase stage, the two decisive factors when choosing information sources were 'availability of try-on & comparing different products' for offline sources and 'availability of various reviews' for online sources. This shows that for both online and offline sources, confirming the quality of the product beforehand was essential.
For luxury-related information, the survey indicated that over half the population valued going to offline department stores to acquire information about luxury products. To add on, in 2021, the top department stores in South Korea: Shinsegae, Lotte, Hyundai and Galleria flourished with a sales increase of about 40% compared to 2020. This indicates that despite the rise of online shopping platforms due to COVID, luxury consumers still prefer going to offline department stores. Offline department stores remain as a significant route of information within the customer journey.
Through this, brands should understand that offline spaces are key venues for customers to physically experience the brand and its products. Thus, offering unique and satisfying customer experiences in offline spaces is also important to fulfill the needs of luxury consumers in 2022.
Post-Purchase Stage:
In the post-purchase stage, social media channels were the main source of engagement management between the luxury consumer and brands. In the survey, Instagram (40.5%) and YouTube (40.3%) had the highest subscription followed by Facebook (29.9%) and KakaoTalk (26%).
In the case of official brand Kakao channels, the cluster group with high affection and consumption had the highest subscription rate, meaning that this group valued continuous communication with brands through the channel's various functions such as push messages and 1:1 chatting. Customers are able to get information through these channels such as offline events and brand promotions, which keeps them highly engaged with the brand. In addition, approximately 64% of the subscribers replied that luxury brand Kakao channels highly influenced their purchase decision.
This implies that the usage of local channels such as KakaoTalk, Naver and Daum provides localized and interesting contents in the post-purchase stage.
Cluster Introduction: The 3 Clusters
Contrary to last year, the LCR 2022 identified three main cluster groups.The clusters were initially divided by two psychological variables which were brand affection and luxury consumption. These two variables were measured by a calculator of the survey questionnaire replies related to each variable. Then the clusters were analyzed in more detail by dividing them by different age groups. Luxury consumption behavior patterns varied among the different clusters.
Report Structure: The 4 Stages
The LCR report is structured into four main stages: pre-purchase, purchase, online purchase and post-purchase, following the stages of the customer journey. Online-purchase was added exclusively because of the insights that online luxury shopping brings currently and the continuous and integral part of luxury consumption it will have. The report goes through key questions in each stage with a general analysis and explanation about the cluster differences:
Pre-Purchase: How do Korean consumers research before a purchase?
Purchase: How do Korean consumers purchase luxury goods?
Online-Purchase: What online sales channels do Korean consumers use to purchase luxury goods?
Post Purchase: How do Korean consumers react to brand content?
Download a preview version of the report through this link: https://share.asiance.com/d/6dca10b75f
More insights and takeaways can be found in the Luxury Consumer Research Report 2022.
Contact us at insight@asiance.com to get your full Luxury Consumer Research Report 2022 today!