Turn Your Naver On
Last month, one of the live commerce platforms, Kakao Shopping Live, was explained through our Insight Posting. Kakao Shopping Live can be considered for a lot of brands due to the diverse features and benefits that Kakao offers. Additionally, customers can experience an easier customer journey in the Kakao ecosystem. If you are interested in the Korean market, you must have recognized that Naver is playing an important role in the Korean market, just like Kakao. In general, the features of Kakao Shopping Live and Naver Shopping Live are quite similar as they are both intended for customers to watch the show and purchase the products which come with certain benefits offered during the live shopping experience. However, there are some differences between the two regarding a few functions and figures.
In the Mobile Shopping Trend Report of 2021 from Open Survey, an online survey of 1,000 males and females aged between 20 to 49 years nationwide was conducted and most mobile shopping users were aware of live commerce (75.7%) and had already watched it (63.8%). The survey showed that Naver Shopping Live had the highest market share among live commerce channels. In the survey, 73.6% of the respondents answered that they were using Naver Shopping Live as their main live commerce app or site. It came down to 7 out of 10 mobile shopping users choosing Naver Shopping Live. It was followed by Kakao Shopping Live (41.9%), JAM LIVE (20.3%), and Coupang Live (19.7%). Naver Shopping Live also ranked first in terms of channels used by consumers as a priority when watching live commerce. When asked about the No. 1 viewing channel in live commerce, respondents cited Naver Shopping Live (56.8%), Kakao Shopping Live (14.5%), Coupang Live (6.9%), JAM LIVE (5.2%).
Naver Shopping Live was launched on July 30, 2020, and exceeded 350 million views and 250 billion KRW in cumulative transactions in 11 months by the end of June 2021. Compared to August 2020, right after the launch of the service, the total number of sellers and monthly transactions increased by 620% and more than 1300% as of June 2021, establishing itself as a new shopping channel for both sellers and users. Naver Shopping Live also led to an increase in the sales within Naver Smart Store. According to an analysis of the sales of Naver Smart Stores from May 2020 to September 2021, sales of Naver Smart Stores that held Naver Shopping Live increased by 49% and 48%, respectively, compared to stores that did not hold Naver Shopping Live. The Naver Smart Stores that did not use Naver Shopping Live showed only 7% and 16% of sales growth. The effect of Naver Shopping Live was greater for small and medium-sized business owners (SME). As a result of analyzing the results of participation in Naver Shopping Live of the SME group and the non-SME group, the sales growth rate (1575%) of the SME group was about three times higher than that of the non-SME group (531%).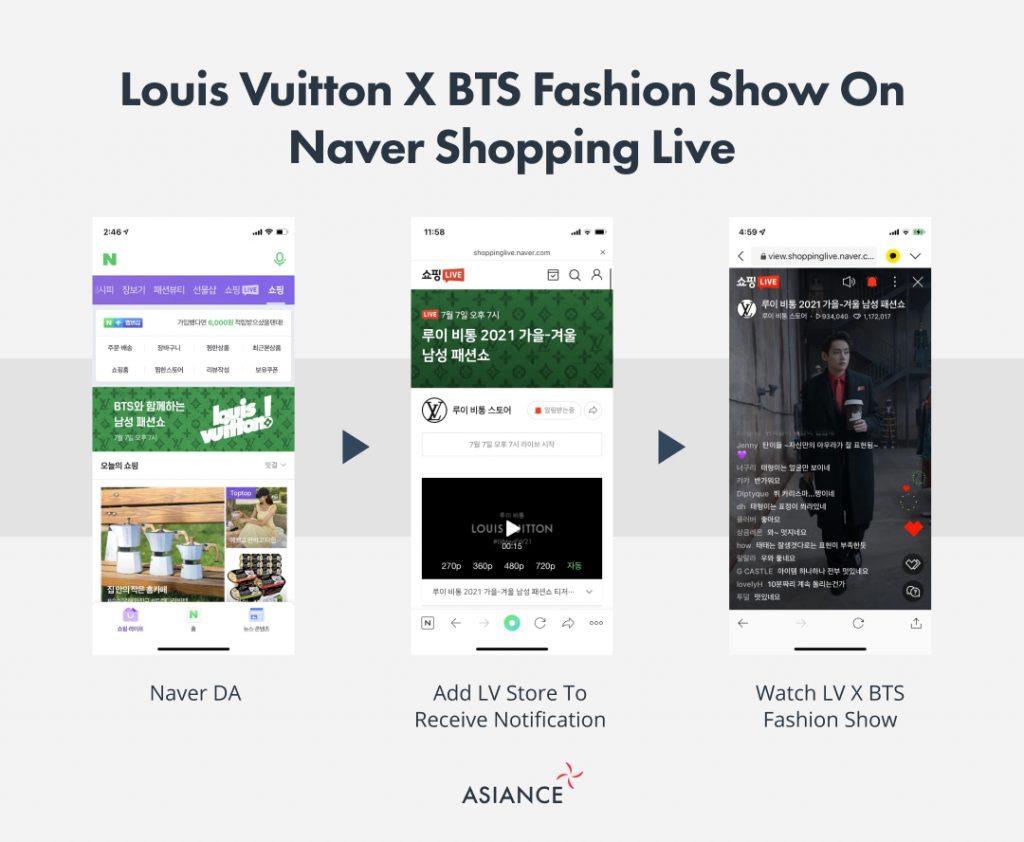 However, not only SME brands, but also luxury brands have been making moves to officially launch their services via Naver Shopping Live. For example, in September 2020, Galleria Department Store hosted its first live broadcast with the Off-White store. There were 8,000 viewers even before the broadcast. The hosts were local influencers who initiated by wearing and explaining Off-White products. Within 15 minutes of starting the broadcast, the number of viewers surpassed 15,000. Until now, the accumulated number of viewers has reached about 60,000 views. (*Rewatching function is available on Naver Shopping Live) Additionally, Naver Shopping Live broadcasted the 21FW Louis Vuitton x BTS fashion show for the first time in July 2021. The video recorded more than 1.17 million views. Even before the fashion show was broadcast, Louis Vuitton conducted advertisements within Naver, and clicking on the advertisement led to the Naver Shopping Live page. In addition, a function was set to allow users to receive an alarm/notification at the start of the Louis Vuitton fashion show as a reminder. As such, Louis Vuitton continued its customer journey within Naver and contributed to further engagement with consumers through KOLs, BTS. Regardless of the industry, brands can utilize the Naver Shopping Live platform for a seamless customer experience within Naver.
---
Are you interested in Asiance's insights?