Today's posting will go through the definition and functions of Naver Smart Store, an online marketplace within Naver. Naver is in the lead with a market share slightly higher than Coupang, according to Naver's performance announcement of 2021 Q4. And Naver's commerce sector grew 27% compared to the previous year, reaching a sales total of 405.2 billion KRW. Especially due to the trend shift to digital after the start of the COVID pandemic, the yearly transaction amount for Naver Smart Store grew 35% with an average of 28,000 new brands entering the Smart Store. As can be seen in these numbers, the scale of the Naver Smart Store is continuously growing. But you may ask, what is Naver Smart Store specifically?
What is Naver Smart Store?
Naver Smart Store is an online shopping platform operated by Naver. Without constructing a server nor outsourcing, anyone with a Naver ID is able to open and manage an online shopping mall in Naver. The fact that brands can enter the Naver marketplace free of charge is the reason why more sellers are willing to use the service. Naver Smart Store is a solution for smaller brands that want to launch their first online store, however there are also many cases in which mid-sized brands that already have an e-com site enter Naver Smart Store and manage two different sites simultaneously. For sellers that have an e-com site, they can expose their brand through Naver Shopping search and implement Naver Pay by paying commission fees without opening a Smart Store. However, despite this possibility, the main reasons for opening a Naver Smart Store are because brands cannot overlook customers' high preference for convenient sign-ups, delivery status view, review management and Naver Point rewards.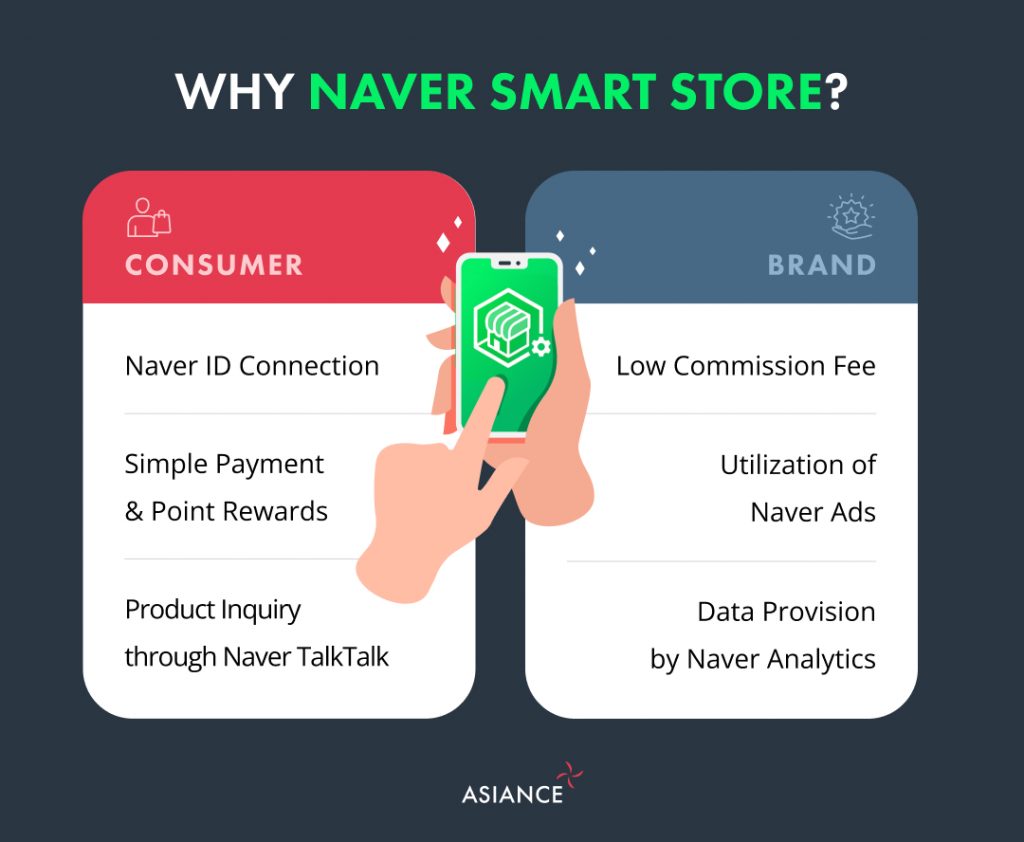 Customer's POV
Some of the main reasons why Naver Smart Store is favored by customers are its familiarity, convenience and accessibility. Approximately 80% of Korean online shoppers use Naver on a daily basis. Also they enjoy the seamless experience from the simple payment system and point accumulation. In other words, the familiarity of Naver's UI, sign-up through Naver ID and simple payment and point awards through Naver Pay are the main reasons for using Naver Smart Store. In addition, the fact that Naver TalkTalk can be used for inquiries about products/services regardless of time or space within the Smart Store also contributes to a convenient shopping experience. When paying through Naver Pay, the payment procedure can be done within the Naver TalkTalk chat box without opening a new screen. Thus, Naver's provision of a seamless customer journey starting from brand search to payment is why Korean customers prefer to use Naver Smart Store.
Brand's POV
Then, what are the merits of Naver Smart Store from a brand's perspective? First of all, as mentioned above, marketing through Naver's various services is possible through a low commission rate. Though commission fees exist for payment, the fee for opening and managing the Smart Store is for free. So when the customer pays through Naver Pay, depending on the brand's sales volume, the commission fee (incl. VAT) ranges from 2.2~3.63%. The numbers are significantly low compared to other open markets such as Coupang, G-Market and 11st. Second, brands can easily start advertising through Naver Ads by following the guidelines offered by Naver. Brands can select Search Ads and/or Display Ads and easily induce product purchases from their Naver Smart Store through the Naver Ads. Lastly, brands can utilize Naver analytics free of charge and identify their visitors' site usage pattern and entry information. Each brand's Smart Store user circumstances can be understood with an intuitive interface, such as the number of total visitors, keywords for visit, Naver Search Ad conversion and utilized for managing the brand's Smart Store.
Today's post went over the definition and functions of Naver Smart Store. Because there are advantages for both the customer and the brand when using Naver as an e-commerce marketplace, it is expected that even more brands will enter the Naver Smart Store. According to Han Seong Sook, the CEO of Naver, Naver is now experimenting with a revenue model through the launch of various commerce products and expected that there will be a great growth within 2022 compared to the current market along with a development in the commerce revenue structure. Stay tuned for upcoming posts about new insights related to Naver's expanding e-commerce sector.
---
Are you interested in Asiance's insights?